CORROSION-RESISTANT COATINGS FOR STRUCTURAL BOLTS
High strength structural bolts are designed for "steel to steel" connections. They are perfect for applications requiring high tensile strength or tension control such as bridges, buildings, airports, stadiums, and other structures requiring steel to steel connections.
Structural products are often exposed to many external factors such as water, varying temperatures or salty air, and can corrode quickly if not protected with a coating.
Corrosion, which is a process of gradual destruction of metallic materials, can significantly affect the quality of the fasteners. In fact, it is considered one of the leading causes of damage to these fasteners.
What about corrosion resistance for structural products?
Fortunately, there is a solution to this problem: protective coating!
According to the ASTM F3125 Standard Specification for High Strength Structural Bolts and Assemblies, permitted coatings are hot dip galvanized, mechanical  galvanized and zinc flake coatings.
Less recommended coating systems, but permitted, are electrodeposited zinc and cadmium.
How do you know a coating's resistance to corrosion? Corrosion testing!
Samples are placed in a certified salt spray cabinet and monitored over time for presence of corrosion. Salt spray hours are the yardstick for measuring a coating's resistance to corrosion—for instance, 1,000 hours of salt spray equates to approximately 41 days.
Did you know that zinc-based coating systems corrode in two phases? Their corrosion is white and then red, widely known as rust.
Application expectations for corrosion resistance need to be matched with the appropriate coating system.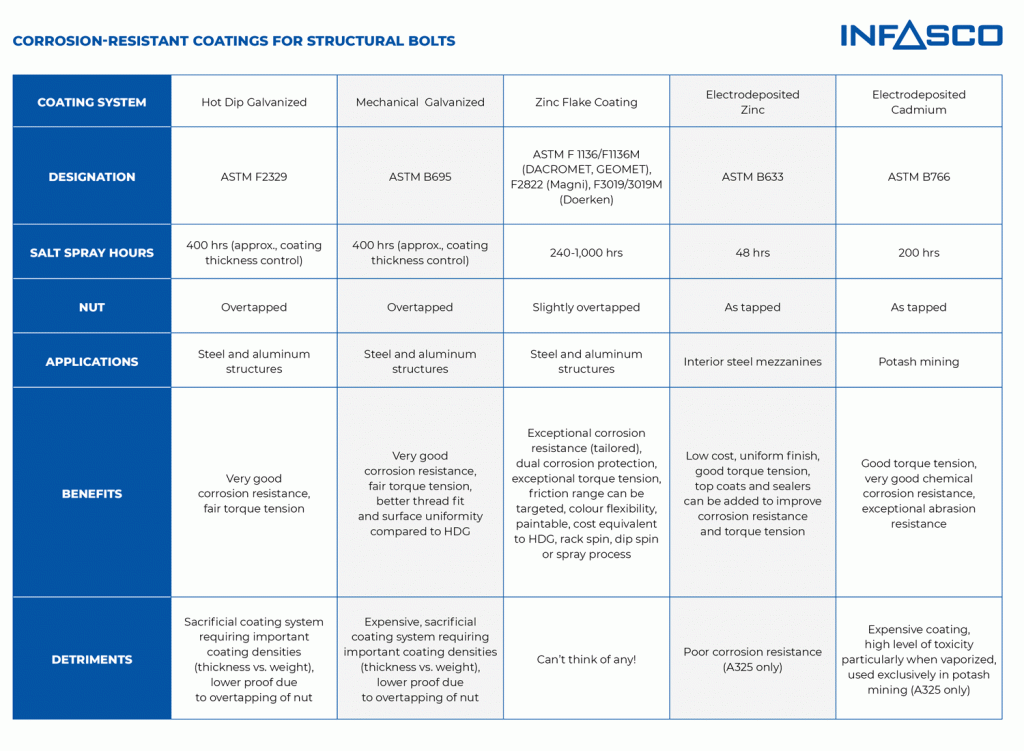 Did you learn anything from the above?  Take the quiz
Infasco offers surface treatment and finishing services including zinc plating, hot dip galvanized and zinc flake. Contact us for more information!
Did you like this article? Subscribe to our newsletter to receive our next topic!